AGM 2019: All Souls College (Oxford), Thursday 5 Dec 2019
Attached is the provisional agenda;  Click here for the attachment.
PMMS 2018 Study Day and Council Meeting: Magdalen College (Oxford), Saturday 20 Jan 2018
Polyphonic Music of the Late Middle Ages from England and the Continent. Sources, Context and Court Culture.
The study day was accompanied by the exhibition "Fragments of note: the afterlives of medieval manuscripts" at Magdalen College, Oxford, which examined the numerous medieval manuscript fragments held at Magdalen, largely medieval books that have been dismantled in the early modern period and re-used as binding waste or covers. The main exhibition focused on fragments featuring musical notation and was complemented by a selection of contemporary watercolour, collage, and paper-pulp relief works by fine artist Janet Boulton. The exhibition was co-curated by Dr. Giovanni Varelli (Prize Fellow in Music at Magdalen) and Mr. Daryl Green (Librarian).
PMMS 2017 Study Day and AGM: Worcester Cathedral, Saturday 13 May 2017
Worcester cathedral offers a fascinating window into medieval religious practice and culture. We can still see elements of how monks lived and practised, in the cathedral itself, the cloister and the precincts more widely. Our keynote speaker was Professor David Hiley, acclaimed author of Western Plainchant: A Handbook and Gregorian Chant. This was his inaugural address as incoming President of the Plainsong and Medieval Music Society. Professor Hiley introduced us to some of the ways in which new liturgies were created for English saints during the middle ages, at Worcester and elsewhere.
Worcester cathedral was the original home of some precious witnesses to musical practice in the 13th-14th century. Broken up for use as flyleaves when the repertoire was no longer sung, these "Worcester fragments" were scattered in various archives and libraries. The songs were rediscovered, and their relationship with Worcester uncovered, in the 20th century. Julia Craig-McFeely  introduced us to some of the challenges of digitally restoring manuscript fragments of medieval music, such as the Worcester fragments. Giovanni Varelli introduced us to some of the Worcester fragments that have ended up in Oxford.
The study day was rounded off by a tour of the Cathedral library, with viewings of some of its medieval liturgical and musical holdings, and Evensong sung by the cathedral choir, including some of the Worcester fragment repertoire.
'Palaeography of Old Hispanic Manuscripts: Music, Text and Beyond'
The Workshop 'Palaeography of Old Hispanic Manuscripts: Music, Text and Beyond' was held on 4th May 2017 in the 'Centre for the Study of the Sociology and Aesthetic of Music' (CESEM) in Lisbon, Portugal.
Within the wider context of Western sacred music, Old Hispanic Chant is the pre-Gregorian repertory which is preserved most completely and has few Gregorian contaminations. Surviving Old Hispanic musical manuscripts may unveil important information about the Western liturgical chant before the Carolingian reform. However, the complexity deriving from the non-pitched notation of OH manuscripts and the impossibility of transcribing their music into modern score have discouraged scholars from untangling their contents and unveiling their secrets.
Despite their importance, only in recent years have OH musical manuscripts become the object of systematic investigation. The research made in the context of the 'Old Hispanic Office Project' at the University of Bristol (http://www.bristol.ac.uk/arts/research/oho-project/) has demonstrated that these neglected manuscripts have the potential to lead to crucial discoveries about medieval music, liturgy, and palaeography.
For more information on the workshop, see Workshop_Palaeography of Old Hispanic Manuscripts Music, Text and Beyond
The Ranworth Symposium
St Helens Church, Ranworth, Saturday 30 April 2016.
The art and music of 15th century Norfolk were explored and celebrated at a day long symposium dedicated to the medieval treasures of Ranworth Church.  The church's famous rood screen and Antiphoner, or service book, was at the centre of the informal conference and singers from Oxford University recreated the vespers, or evening prayers, originally sung by medieval monks. This event was sponsored by PMMS. For more information, see  Ranworth symposium
Music Manuscripts and Their Afterlives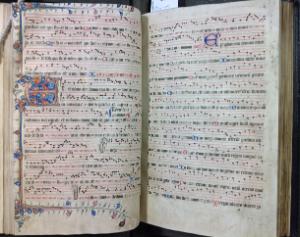 Northumbria University, Newcastle upon Tyne, Saturday 9 April 2016
This study day explored what happened to music manuscripts once they outlived their original purposes. The few that escaped destruction frequently bear witness to customization, changing tastes, social turbulence, bad housekeeping and sharp practices. A series of case studies were presented by James Burke, Sean Curran, Helen Deeming, Warwick Edwards, Eleanor Giraud and Elsa De Luca. It was followed by Polyphonic Discoveries – matinée concert by the Binchois Consort, directed by Andrew Kirkman, St John the Baptist, Grainger Street, Newcastle upon Tyne. The concert showcased music from the time of the Hundred Years War.  Pride of place went to the Petre Gradual, a fine medieval service book recently re-discovered in Newcastle University's Robinson Library; in association with the Newcastle Early Music Festival (details at http://www.ncl.ac.uk/events/kings-hall/nemf).
For titles and abstracts, please see http://www.tudorpartbooks.ac.uk/newsevents/musicmanuscriptsandtheirafterlives.html
---
Manchester, John Rylands Library, Latin Ms. 74, fol. 2v
Antiphoner, Northern Italy, 13th century
'Getting to Grips with Medieval Liturgy Through Primary Sources'
Study Day
The John Rylands Library, Manchester
13 November 2015
10.30-12.30: Morning session led by Dr Nicolas Bell (Librarian of Trinity College, Cambridge)
Finding your way around medieval liturgical manuscripts. This session was primarily be aimed at non-specialists from all disciplines, and interested members of the public.
14.15-16.30: Afternoon session led by Dr Nicolas Bell, Dr Matthew Cheung Salisbury (Oxford), Dr Eleanor Giraud (Oxford), and Dr Hana Vlhová-Wörner (Bangor).
Case studies of selected original manuscripts and early prints of the liturgy. In small groups, experts introduced the participants to some of the treasures of the John Rylands Library – less to present a codicological study of that particular book or books, but in order to explain 'hands on' how and by whom and to what purpose the individual sources would have been used within the rite. The groups rotated, so that each participant had the opportunity for a close encounter with each of the objects on display.
PMMS gratefully acknowledges the support of the John Rylands Library and the John Rylands Research Institute.
---
Free concert for PMMS members!
On Friday 11th September 2015, at 6pm in Lincoln College Chapel (Turl Street, Oxford), there was a PMMS-sponsored concert, showcasing music that can be associated with the Dominican Order–both friars and nuns.  Sung by a small group of Oxford choral scholars, the programme included Dominican chant, Dominican-composed sequences, Notre-Dame polyphony (used as binding fragments in Dominican books), and trouvere songs compiled by a Dominican.
The concert was part of a wider conference on the Influences of the Dominican Order in the Middle Ages.
---
PMMS 2015 Study Day and AGM, May 2015
The 2015 study day was part of the Senses of Liturgy conference in Bristol. There was a stellar line-up of speakers, and fascinating papers and stimulating discussion. We offered registration discounts for Plainsong and Medieval Music Society members, and bursaries for early career scholars who were presenting a paper.
---
'Med-Ren', 3rd-6th July, 2014
The Society was proud to support the Medieval-Renaissance Music Conference  at the University of Birmingham. We sponsored the keynote lecture by Professor Ardis Butterfield.
PMMS 2014 Study Day and AGM, 29 March 2014
Short talks about and exhibition of British Library manuscripts
Download the programme here.
PMMS 125th Anniversary AGM and Study Day in collaboration with the York Early Music Festival (2013)
There's no place like Rome: Centres of music and liturgy before 1550
PMMS members are warmly invited to the AGM study day on 10 July 2013, held at Bedern in the city of York. The day will celebrate the Society's 125th anniversary with a wine reception and free evening concert of conductus by candlelight, two public lectures and a series of papers held in medieval venues in York city centre. The theme of the day is the exploration of centres of music and liturgy before 1550, and will have a good balance of talks on plainchant and polyphony. Speakers include Roger Bowers, Emma Hornby, Rebecca Maloy, Andrew Kirkman, Jim Borders, Thomas Schmidt, Matthew Ward and Hana Vlhová-Wörner.
Registration will be in the region of £50 (non-members) and £35 (members and students). Delegates will be provided with lunch, refreshments, a free ticket to an evening performance at the Merchant Venturer's Hall and a discounted ticket to a further concert at York Minster, as part of York Early Music Festival. Further details and registration will appear on the PMMS website in the new year. The day will also include the AGM, which is free to attend.
Delegates may like to stay for a few days to enjoy further events at the York Early Music Festival (Friday 5 – Saturday 13 July) and will focus on Rome, with music created under the patronage of medieval Popes, the renaissance polyphony of Palestrina, and the exuberant baroque of Handel in Italy. Special features will include a celebration of the anniversaries of Corelli (1653-1713) and Dowland (1563-1626). Artists will include countertenor Iestyn Davies, one of the world's foremost viol players Wieland Kuijken, the Italian medieval Ensemble Medusa with singer Patricia Bovi, medievalist Stevie Wishart and her group Sinfonye and Theatre of the Ayre with Elizabeth Kenny and members of the Ukulele Orchestra of Great Britain!
PMMS Annual Conference
Faculty of Music, University of Oxford, 10 March 2012
Music and Death before 1650
We are delighted to invite you to the 2012 Conference and Annual General Meeting, to be held in the Faculty of Music, University of Oxford, on 10 March 2012. The fee will be £20/£10 concessions, with free entry for members of the Society.
Schedule
10.00 – Chant (John Harper, chair)
Alexander Lingas, 'Commemoration of the Dead in Medieval Byzantine Chant'
Matthew Cheung Salisbury, 'The Office of the Dead in Late Medieval England: Sources, Variants, Performance'
11.00 – Tea and Coffee
11.30 – Laments, Death Songs, Elegies (Lisa Colton, chair)
Leofranc Holford-Strevens, 'The Tombeau before the Tombeau: Laments for the Death of Musicians'
Katherine Butler, 'Singing about Death in Elizabethan Court Culture'
12.30 – Lunch
14.00 – Annual General Meeting
15.00 – Tea and Coffee
15.30 – Polyphony (Thomas Schmidt-Beste, chair)
Margaret Bent, 'Ockeghem's Requiem'
Fabrice Fitch, 'The "Motet Chanson": Death and/of a Genre'
Owen Rees, 'Victoria's Officium defunctorum and the Exequies of the Empress Maria of Austria'
2011 Symposium and Annual Meeting
From Text to Performance: Medieval Vernacular Song in the 21st Century. Centre for Early Music, University of Birmingham, 26 March 2011
I am delighted to invite you to a Plainsong and Medieval Music Society Symposium at the University of Birmingham's Centre for Early Music Performance & Research.
Issues concerning the performance of medieval vernacular repertoires are central to the symposium. Two of the most distinguished performers of our generation, Benjamin Bagby and John Potter will offer extended presentations that will provide the focal points of the day. There will also be a number of shorter papers to stimulate further discussion on issues in a range of vernacular repertoires, monophonic and polyphonic, up to the middle of the fifteenth century, that will be of interest to performers, editors, scholars (of literature and of music), and others in the early music world.
2010 Conference and Annual Meeting
Faculty of Music
University of Cambridge, 13 March 2010
This year, the Annual General Meeting of the Society will be followed by a day of student papers and presentations, and a round-table discussion on careers in medieval music.
2009 Conference: Nothing new? Understanding newness in medieval and contemporary music
Centre for Research in New Music
University of Huddersfield, 25–26 April 2009
Timetable
Time
Detail
9.30am
Coffee and registration
10am – 11.30am
Welcome from Chairman (Elizabeth Eva Leach)Medieval masculinities (1) (Chair: Helen Deeming)Elizabeth Eva Leach (Royal Holloway)
Machaut's masculinityYolanda Plumley (University of Exeter)
Machaut meets his mates: Masculine rivalries and poetic exchange in the Voir Dit and Loange des DamesLisa Colton (University of Huddersfield)
Princess, Abbess, Archbishop, Virgin: The cult of the Eleven Thousand Virgins in medieval York
11.30
Coffee
11.50am – 12.50pm
Medieval masculinities (2) (Chair: Owen Rees)
Paula Higgins (University of Nottingham)
Josquin and the Dormouse: Aesthetic excess, masculinity and homoeroticism in the reception of Planxit autem David
12.50pm
Lunch
2pm – 3.45pm
Gendering medieval music (Chair: t.b.c.)Anna Maria Friman (University of York, Trio Mediaeval)
Modern performance of medieval music: female voicesBonnie Blackburn (Oxford University)
To be or not to be flat: The ambiguous gender of bDavid Maw (Oxford University)
The effeminacy of the Ars nova
3.45pm
Tea
4.15pm
Roundtable discussion
All speakers (Chair: Emma Hornby)
5pm
AGM
All welcome
7.30pm
Bristol University Madrigal Ensemble Anniversary Concert
(Clifton Cathedral, Pembroke Road; approx 8 minutes walk from the Victoria Rooms)Concert includes Thomas Tallis Spem in Alium plus madrigals, part songs and modern repertoire.Tickets available on the door: £6 (£4 student concession available)
PMMS 2006 Study Day: Music in Late Medieval English Cathedrals
The Faculty of Music, St Aldate's, Oxford
on Saturday, 6 May 2006, 10 am to 5 pm
The conference will explore the context of the cathedral institution, institutional change at the time of the Reformation, the provision of Lady Chapels for singers, the adoption of Sarum Use, issues of migration of musicians and repertory, music education, the provenance of key polyphonic sources, and the liturgical timetable of the new-foundation secular cathedrals, with contributions from scholars currently active in this field:
Roger Bowers (Cambridge University)
Tim Tatton-Brown (Salisbury)
Magnus Williamson (Newcastle University)
Sally Harper (University of Wales, Bangor)
David Lepine (Dartford/Exeter University)
Jane Flynn (Leeds)
Anna Burson (Oxford University)
John Harper (RSCM/University of Wales, Bangor)
There is no charge for members of the society. Non-members will be asked to pay a fee of £12 on arrival
(students and senior citizens, £6).
The conference will be followed by the Society's Annual General Meeting at 5.10 pm and by Evensong in Christ Church at 6.00 pm.
Timetable
10.00 Welcome
10.15 David Lepine: 'Famous Colleges of Priests': English Secular Cathedrals c 1450-1560
10.45 Sally Harper: The spread of Sarum Use: the case of Wales, especially St Davids and St Asaph
11.15 Tim Tatton Brown: The provision of Lady Chapels for singers: the case of Salisbury
11.45 Short break
12.00 Anna Burson: Institutional change and music during the mid 16th century at Hereford Cathedral and Worcester Cathedral
12.30 John Harper: The pattern of liturgy and music in the 1540s: Nicholas Heath, the Statutes of the Cathedrals of the New Foundation and his Injunctions for Rochester Cathedral
2.30 Jane Flynn: The Mulliner Book as a record of the education of adolescents in Cathedrals
3.00 Roger Bowers: Caius 667: the choirbook of an early Tudor provincial cathedral?
3.30 Short break
3.45 Magnus Williamson: Issues regarding the migration of musicians and polyphonic repertory
4.15 Discussion leading on from afternoon papers
4.40 Tea
5.00 PMMS AGM
6.00 Evensong in Christ Church, including early 16th century repertory
2005 Conference: Music in late medieval English parish churches
30 April 2005, Faculty of Music, Oxford